Bill Sasser & Bobby Copeland
Author Bobby Copeland is the winner of the 2007 "Eddie"Award.
John Sents was awarded the "Eddie" for 2008 in recognition of his dedication and love for our hobby.
The 2009 "Eddie" was awarded to Jim Kocher for his faithful support of our hobby.
Bill Sasser & Bonnie Boyd
Bonnie Boyd is awarded the 2010 Eddie for her dedication and love of our hobby.
Bill Sasser & Ed O"Reilly
The 2011 "Eddie" is awarded to Ed O'Reilly. Ed is a long time fan, collector and supporter of most of the major film festivals regularly attending Memphis, Asheville, Charlotte, Winston-Salem, Knoxville, Lone Pine, Los Angeles, Williamsburg and so forth. He is a Super Fan of our Hobby.
Bill Sasser & Nikki
The 2012 Eddie Award Winner is a super fan and active supporter. Nikki Ellerbe is the President of the Raleigh Chapter of the Western Film Preservation Society. He publishes a bi-monthly newsletter for his club. He is a collector of b-western memorabilia, attends most of the western film festival and is one of our hobby's best "Good Will" Ambassadors.
Our 2013 Eddie was presented to Doug Jewell in appreciation of his on-going support for our Festival. Many thanks to Doug for his great support which has aided us in maintaing our high level of achievement.
Super Fan, Festival Organizer and Collector Fred Jones was awarded the 2014 Eddie Award for his dedication in keeping our genre alive.
Harry Daniel, Bill Sasser, Larry Floyd, Tom Wyatt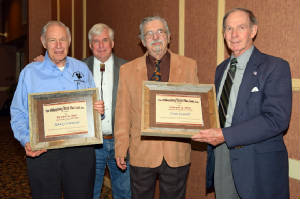 Harry Daniel and Tom Wyatt, long time collectors of 16mm movies and volunteers at films festivals all over the East Coast, received the 2015 "Eddie"- Fan Appreciation Award. They have spend timeless hours showing western movies at nostalgic festivals as well as sponsoring movie nights at their local library in Richmond, Va. Stalwarts over the years in our Hobby.
The recipient of the 2016 "Eddie" Award is Tony Monczewski. Tony is a long time collector and festival fan. He has attended most festivals dating back to the late 1970s. He is a recognized Movie Locations expert with a large collection of location photos. He is the Staff Photographer for the Williamsburg Film Festival and freely shares his photos with stars and fans alike. Congratulations to Tony for making our hobby stronger.