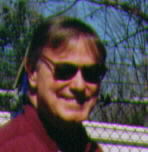 Bill Ruehlmann
Still Magical After All These Years
By Bill Ruehlmann
WHAT MACHO PRESTO: Videographer Carter Perry, 260 pounds, and I, 200, are standing on either side of magician John Calvert, who, at 6-feet-2 and a trim 189, seizes our hands in each of his with a grip like a sausage grinder.

"Move me," says Calvert. Perry and I strain. Calvert doesn't. We don't budge him.

Instead, he moves us. As the showman loosens his hold, I brush against a whipcord arm. Deferentially, Calvert dusts us off. His immaculate shirtfront is creaseless, his high forehead devoid of sweat. Long, lean and leonine, Calvert will be 92 on Aug. 5.

"In the magic community, this man is a living legend," says Jerry Harrell, president emeritus of Hampton Roads' Earl Edwards Ring 103 of the International Brotherhood of Magicians. "He is the only magician still alive who was a contemporary of Harry Blackstone -- senior! -- and Thurston and Dante and so many of the finest of the golden age of the '20s and '30s. John still holds a Guinness world record for the longest-touring stage magic show in history."

In town to visit old friends, Calvert, who also starred in Hollywood motion pictures, brought along a print of his 1953 film, "Dark Venture." He has updated it with a prologue and epilogue featuring him and co-star Ann Cornell, 80ish, as they appear today. They're both fit.

Calvert, now white-haired, enters the picture from aloft, via parasail. "I was up there for an hour," he notes, "a hard place to be for the director of the film." Calvert flies his own plane, pilots his own yacht and drives his own land cruiser. He is a veteran of 20,000 personal appearances on stage. He has six grandchildren and four great grandchildren. And has hosted innumerable unconventional pets, from elephants to cheetahs. One of them, Jimmy the chimp, had a key supporting role in "Dark Venture," acquired as the replacement for a primate with less panache.

"The baboon wasn't a lovely creature," says Calvert. "Sort of a nasty little character. Jimmy was ideal." He remained long after the fadeout clinch with Cornell. After reshooting African scenes in Florida, en route to Calvert's Los Angeles home, Jimmy came down with a fever. The magician got him admitted to the children's ward at El Paso General Hospital.

"He was like a person," says Calvert.

Recovered, Jimmy took residence with Calvert in the Hollywood hills. A maid unwisely left him to his own devices one day while she was cleaning the guest bungalow and found she had a lot more work to do when she got back to the main house. Jimmy had trashed the place.

"He got into the refrigerator," recalls Calvert. Did he ever. The place was painted with cooking oil, ketchup and mayo. The maid locked Jimmy in the clothes dryer and called Calvert.

Adjustments were in order, so the magician followed up by building Jimmy his own house on the grounds. Jimmy responded by mastering table manners and brushing his own teeth. He also learned to use the toilet.

Still, nobody's perfect. "One night Jack Webb phoned me," Calvert reports. Webb, the deadpan director-star of "Dragnet," was a neighbor. "He said, 'John, your son is up here.'"

Jimmy was drunk. Otherwise well-behaved, the party-crasher had taken to emptying stray glasses at Webb's holiday get-together. The following day Jimmy's peccadillo turned up in Hedda Hopper's gossip column. Not to be outdone, competing columnist Edith Gwynne called Calvert and announced she was throwing a party for him. For Jimmy, not Calvert. But Calvert could come. As it turned out, so did Mr. and Mrs. David Niven, John Wayne and the Basil Rathbones. Jimmy held court in a tux.

As the evening wore on, the chimp disappeared; they found him Undressed and curled beneath the covers in the bedroom, fast asleep. Calvert has total recall. When I ask him how he has stayed so fit for so long, he points wordlessly to his brow. An active mind. But Calvert, who beat polio as a child, trained and trained to conquer his disability; he never drank or smoked, except when producing a score of lit cigarettes on stage from thin air.

Clark Gable came to Jimmy's party, too. Calvert's hands had doubled For the King's in "Honky Tonk," performing fast shuffles and fast cuts. That was in 1941. Sixty-two years later, magical John Calvert is still dealing.

--Port Folio Weekly, June 16, 2003

Bill Ruehlmann is a professor of journalism/communications at Virginia Wesleyan College in Virginia Beach, Va. He is also an award-winning newspaper writer. Dr. Ruehlmann is a member of the Board of Directors of the Williamsburg Film Festival.